Awards
Professional-Lurker blog was nominated for the
Best designed/most beautiful edublog
in the 2005 EduBlog Awards.
Professional-Lurker blog was listed as the
Feedster Feed of the Day
on November 13, 2005.
Professional-Lurker blog was the recipient of Best Research Based Blog High Esteem ranking in the
2004 EduBlog Awards
.
The blogger is co-author of the
2004 EduBlog Awards
winning paper
Bridging the Gap: A Genre Analysis of Weblogs
.
Music I may be listening to
Frances Black
Mary-Chapin Carpenter
Harry Chapin
The Chieftains
Emma Christian
Connie Dover
Joseph Fire Crow
Dan Fogelberg
Nanci Griffith
Tim Grimm
Dan Hill
Al Jarreau
Joshua Kadison
Carole King
Kevin Locke
Bill Miller
Van Morrison
John Prine
Boz Scaggs
Andrew Vasquez
The Waifs
Dar Williams
Folk Alley: Folk Music, Traditional Music, Celtic Music, and World Music an online radio station

Prolurkr's last.fm Recent Tracks
Blogs I read via RSS Feedreader
Blogs without feeds
Green Mountain Solar
... Internetwork Ecology ...
Software I Can't Live Without
ActiveWords
Book Collector
Detagger
Dover Electronic Clip Art Series (CD-ROM)
FileMaker Pro
GoBinder
HTTrack Website Copier
Linguistic Inquiry and Word Count
MindMap
Mint
MyBlogLog
Reference Manager
RocketPost
Ultra Recall
ViceVersa
Visited Countries
Visited States (United States)
WB Editor
Web Frequency Indexer
The Word Meter
See Prolurker's Personal List at
MyProgs
My favorite quotes
An eye for an eye makes the whole world blind.
Mahatma Gandhi, (attributed)
Indian ascetic & nationalist leader (1869 - 1948)
The reasonable man adapts himself to the world; the unreasonable one persists in trying to adapt the world to himself. Therefore all progress depends on the unreasonable man.
George Bernard Shaw (1856 - 1950), Man and Superman (1903) "Maxims for Revolutionists"
You see things; and you say, 'Why?' But I dream things that never were; and I say, "Why not?"
George Bernard Shaw (1856 - 1950), "Back to Methuselah" (1921), part 1, act 1
Don't let fear convince you that you're too weak to have courage. Fear is the opportunity for courage, not the proof of cowardice.
McCain, John
(2004, September). In Search of Courage: Finding the Courage Within You.
FastCompany
, 51-56.
In the search for character and commitment, we must rid ourselves of our inherited, even cherished biases and prejudices. Character, ability and intelligence are not concentrated in one sex over the other, nor in persons with certain accents or in certain races or in persons holding degrees from some universities over others. When we indulge ourselves in such irrational prejudices, we damage ourselves most of all and ultimately assure ourselves of failure in competition with those more open and less biased.
J. Irwin Miller, Chairman of the Board (1951-1977), Cummins Inc. From 1983 letter about diversity at the company.
Sidebars last updated
September 25, 2007
Badges
My Amazon.com Wishlist

My blog is worth $29,356.08.
How much is your blog worth?
Credits
Design by
Digital JAZ
Powered by
Movable Type 3.2
Syndicate this site (XML)
November 26, 2007
Winter is at the door
This picture was taken around 4 p.m. today, I was standing on my front porch looking North. It has been cold and wet all day...and gray...very very gray. Winter has arrived though he has yet to hunker down for his long stay outside the yellow house.
As I went to the mail box this morning, trudging through wet fallen Maple leaves, I kept thinking "wasn't it just yesterday that it was so hot?" So hot that I was living in shorts and workout tops before I broke down and turned on the air conditioning. Wasn't that yesterday? Where is this year going...that is one of the worst part of aging...years go so fast now.
I hate gray, II've always figured I could stand a winter in the Rockies even with all the snow, just because it's so rarely gray. Ahhh the dreams of 300 sunny days, on Piano Creek above 9,000 feet.

Posted by prolurkr at 05:29 PM | Comments (0) | TrackBack
November 22, 2007
"Thanksgiving" is an action word
This morning I gave the sermon at our Thanksgiving Service. I decided to post it for posterity. Hope you enjoy it.
---
When I was a kid I would have told you that Christmas was my favorite holiday for two reasons – music, and presents – not necessarily in that order. Nevertheless, looking back, I think that Thanksgiving was actually my favorite holiday – Christmas was too focused on who got what gifts and was the amount spent on everyone exactly equal, and Palm Sunday and Easter were often confounded with my birthday, which is in April. No I think Thanksgiving was my favorite with it's focus on those we care about the most and on food.
I was blessed to have wonderful women in my life…women who showed their love with their hands when they cooked. My father's mother's angel food cakes were legendary…having spent her life on the farm with fresh organic free-range eggs and whole unpasteurized unhomogenized milk she could take those wonderful wholesome ingredients and whip up a cake with frosting that would set my pre-teen heart a flutter. Sometime you should ask my brother or sister about the Angel Food cakes with Carmel Icing we loved to have as birthday cakes.
My mother's mother, having been a farm girl who became a town wife, didn't have her prime ingredients immediately at hand, but none the less, her yeast rolls are to this day a family legend. As the only bread baker of my generation, not that I actually bake it all that much, I am assailed with requests to make "Aunt Annie's" rolls whenever I am to attend a family gathering in Indianapolis. A request I have yet to fulfill.
You see, I can make yeast rolls. I make good yeast rolls, even ones that look like Grandma's rolls - since she taught me the secret two-handed flip that made them come out so smooth and rounded on the top. However, while they look like Grandma's rolls they don't taste like them.
Part of the reason my rolls don't taste the same as hers is that the ingredients I buy in 2007 just don't taste like the ones she had in the 1960's. Store bought butter isn't as buttery now, flour seems to be old and sort of off even when you open a new package that you bought only minutes before.
However, that's only part of the reason mine taste different. Mine taste different because I am different. I was a farm kid in the 1960's not the 1910's. I've spent my life around cars, and manufacturing machines, and books, and computers; not raising kids and primarily taking care of a home and a family. Therefore, while I can mix the ingredients – there is no secret recipe here; Grandma's yeast roll recipe is straight out of the old Betty Crooker Cookbook. I can knead the dough, form the rolls, and do all the proper raising and proofing required…the essence of me that the rolls absorb from my working them adds something different than the flavor she gave.
Oh and there was one other huge difference between my Grandmother's baking and my own. You see my Grandmother did the baking for me on Thanksgiving, not to keep me feed since Thanksgiving in the U.S. is not, for most of us, about daily sustenance. Rather, Thanksgiving for most of us is about abundance. No, she did it for me…to show the love she could not have then expressed any other way. And I ate at that fountain, and would do so today if the opportunity were available to me. Because as William Jennings Bryan said, "On Thanksgiving Day we acknowledge our dependence."
On Thanksgiving Day, we acknowledge our dependence on each other for emotional support when we are in trouble. We acknowledge our families and our friends who support us when we cannot support ourselves.
Did you know that Charles Dickens wrote "A Christmas Carol" at a time when Puritanism had forced a decline in Christmas celebrations? The Industrial Revolution, in full swing in Dickens' time, allowed workers little time for the celebration of Christmas. Dickens' describes the Christmas holiday as
a good time: a kind, forgiving, charitable, pleasant time: the only time I know of in the long calendar of the year, when men and women seem by one consent to open their shut-up hearts freely, and to think of other people below them as if they really were fellow-passengers to the grave, and not another race of creatures bound on other journeys.
This was what Dickens described for the rest of his life as the "Carol Philosophy". Somehow, we've turned Christmas into a "give me" season rather than the purer celebration of Christ's Birth that Dickens envisioned.
Many years ago, I spent a Christmas Season working backstage at Indiana Repertory Theatre (IRT). That year was one of the seasons were "A Christmas Carol" was performed. For that month of eight-shows-a-week, I handed props to actors as they went on stage and gathered the props back once they were no longer needed. For eight-shows-a-week I was surrounded by Dickens' world, and what I remember most is the turkey. It was a huge bird, the size of your average 7-year-old child. Moreover, while it looked like a real turkey to the audience, it was in fact a hollow bird…a wireframe wrapped in paper and covered in latex, then painted to look like a perfectly baked turkey. I will always remember my father's mother's reaction after she saw the play that winter. "I wouldn't want to try to cook a bird that big it would never get done." However, you see that was in fact part of the point, the bird was for show not for a real family's celebration.
Like the apostles in our gospel reading today [John 6:25-35], it is easy to miss the underlying meaning of things when we have a full stomach. You see first "thanksgiving" is an action word, something we do toward our Lord and other people. Like the manna the Bible refers to, our Thanksgiving should go beyond providing sustenance to our bodies…it should feed our souls as well. Without the food for our souls, our Thanksgiving is as hollow as the IRT turkey, or as unfamiliar as comparing my yeast rolls to my grandmother's. However, you can't – in fact - compare that big-ole-fake-bird to either of our yeast rolls, since the rolls were, and are, made with love.
As my grandmother aged the life she had lead took its toll on her, as all our lives have or will take their toll on us. She became fixated with what she ate and blamed food for all her troubles. Nevertheless, even when she was in that dark place and would not eat bread believing herself to be allergic to wheat, she still made yeast rolls for us. Lovingly mixing, kneading, forming, and proofing those future brown balls of goodness…because and only because, my brother, sister, and I loved to eat them so much.
You see my grandmother got it, at least in part, Thanksgiving is an action word. She gave thanks for her grandchildren, not through words – which are often as hollow as that huge turkey – but through actions. And as we all know, actions are what show our real thoughts and our real feelings.
By way of a prayer will you join me for two short poems – the first from George Herbert and the second from Ralph Waldo Emerson.
Thou has given so much to me,
Give one thing more – a grateful heart;
Not thankful when it pleaseth me,
As if Thy blessings had spare days,
But such a heart whose pulse may be Thy praise.
For each new morning with its light,
For rest and shelter of the night,
For health and food,
For love and friends,
For everything, Thy goodness sends.
Amen.
Posted by prolurkr at 06:44 PM | Comments (0) | TrackBack
November 21, 2007
Check out the new JCMC
A new issue of the Journal of Computer-Mediated Communication is available.
A Table of Contents is included below.
---------
Volume 13, Issue 1, October 2007
The Rules of Beeping: Exchanging Messages Via Intentional "Missed Calls" on Mobile Phones
- Jonathan Donner
IM=Interruption Management? Instant Messaging and Disruption in the Workplace
- R. Kelly Garrett and James N. Danziger
Email Flaming Behaviors and Organizational Conflict
- Anna K. Turnage
Take Me Back: Validating the Wayback Machine
- Jamie Murphy, Noor Hazarina Hashim, and Peter O'Connor
The Impact of Language Variety and Expertise on Perceptions of Online Political
Discussions
- Kenny W. P. Tan, Debbie Swee, Corinne Lim, Benjamin H. Detenber, and Lubna Alsagof
Every Blog Has Its Day: Politically Interested Internet Users' Perceptions of Blog
Credibility
- Thomas J. Johnson, Barbara K. Kaye, Shannon L. Bichard, and W. Joann Wong
Writing for Friends and Family: The Interpersonal Nature of Blogs
- Michael A. Stefanone and Chyng-Yang Jang
Mein Nick bin ich! Nicknames in a German Forum on Eating Disorders
- Wyke Stommel
University Instructors' Acceptance of Electronic Courseware: An Application of the
Technology Acceptance Model
- Namkee Park, Kwan Min Lee, and Pauline Hope Cheong
The Creative Commons and Copyright Protection in the Digital Era: Uses of Creative
Commons Licenses
- Minjeong Kim
---
Special Theme: Social Network Sites
---
Social Network Sites: Definition, History, and Scholarship
- danah m. boyd and Nicole B. Ellison
Signals in Social Supernets
- Judith Donath
Social Network Profiles as Taste Performances
- Hugo Liu
Whose Space? Differences Among Users and Non-Users of Social Network Sites
- Eszter Hargittai
Cying for Me, Cying for Us: Relational Dialectics in a Korean Social Network Site
- Kyung-Hee Kim and Haejin Yun
Public Discourse, Community Concerns, and Civic Engagement: Exploring Black Social
Networking Traditions on BlackPlanet.com
- Dara N. Byrne
Mobile Social Networks and Social Practice: A Case Study of Dodgeball
- Lee Humphreys
Publicly Private and Privately Public: Social Networking on YouTube
- Patricia Lange
----
This and all past issues of JCMC are available at http://jcmc.indiana.edu/
Posted by prolurkr at 09:43 PM | Comments (0) | TrackBack
November 15, 2007
CFP - Technology in Qualitative Research (TQR) [due date is near]
Champaign, Illinois Wednesday May 14, 2008
Call for Papers and Technology Showcase Demonstrations
"Computers have superior abilities for processing patterns, although humans remain superior at interpreting meaning in patterns" - Rosalind W. Picard
Call for Papers and Technology Showcase Demonstrations
This is the call for papers and Technology Showcase Demonstrations to be delivered during the pre-conference day on Creativity Tools in Qualitative Research, associated with the 4th International Congress on Qualitative Inquiry. We welcome your participation in the conference day as a delegate or as a presenter, and we are excited about this new forum to discuss qualitative research, technology, and creativity.
• Date: Wednesday May 14, 2008, (8:30 A.M. ­ 5:00 P.M.)
• Location: University of Illinois, Champaign/Urbana (Illini Union)
Goals
The purpose of the pre-conference day is to engage researchers in a discussion of the relationship between qualitative research, technology, and creativity. The organizers welcome contributions in the following areas:
• 1) Theoretical frameworks used to understand the role of technology in qualitative research.
• 2) Ethical and social justice considerations in the use of technology in qualitative research.
• 3) The role, function and relevance of specific technologies in qualitative research.
• 4) The impact of the digitization of qualitative data on collection, storage, analysis, and distribution of findings.
• 5) The emerging technological issues influencing the preparation and instruction of qualitative researchers in their future engagement qualitative research.
Paper Presentation Information (see Technology Showcase Info at the bottom)
• Oral Paper Presentation Format
• Oral paper presentations (up to 25 minutes for each paper) should include a discussion of objectives, main points, conclusions and implications, followed by 5 minutes of question and answer for each paper. Two papers will be selected for each one-hour time period, and concurrent sessions may be held depending on the number and quality of submissions.
• Foci
• The pre-conference has an overarching goal of examining the Creativity Tools that inhabit the intersection of technology and qualitative inquiry. Any papers that address this intersection are welcome. Topics may include (but are not limited to):
1. Theories about creativity tools in qualitative research
• Examples: What does "creativity tool" mean in qualitative research? What theoretical arenas help us understand the interaction of technology and qualitative research? What are the assumptions, biases, and blinders that influence the development and use of technology in qualitative research? How is creativity fostered and thwarted through the intersection of technology and qualitative research?
2. Ethical and social justice considerations in the use of technology in qualitative research:
• Examples: What impact does the digital divide have on the use of technology in socially responsible research? Who owns the means to produce and the facilities to use such technology? How does technology ensure or threaten the honorable handling of sensitive information? How has technology influenced the positive and negative aspects of aggregated, cross-site analyses? How can the intersection of technology, creativity, and qualitative research provide an avenue for relevant research in social justice?
3. The role function and relevance of specific technologies in qualitative research:
• Examples: How is the analysis of non-textual, digital data providing new lenses for qualitative researchers? What impact has the use of qualitative data analysis software had on the practice of qualitative research? What forms of technology and specific technological tools are promoting or thwarting creative approaches to qualitative data? What is the impact of technology on the discussion of rigor and standards in qualitative research?
4. The impact of the digitization of qualitative data on collection, storage, analysis, and distribution of findings.
• What technologies are being used to collect and store qualitative data? How does digital data differ from other data, and what are the implications for data management? How have BLOGS, web sites, pdf files, etc. positively/negatively changed the distribution of (and access to) research findings? What technologies might we see in the next ten years that will influence the ways qualitative data is collected, stored, and analyzed, and the means through which it is distributed?
5. The emerging technological issues influencing the instruction of qualitative researchers in the craft of qualitative research.
• In what ways should technology be engaged in the instruction of qualitative methods for graduate students? With already scarce time allotted to qualitative methods instruction, what does the introduction of technology add/subtract to the syllabus? How does the use (or lack of use) of technology in qualitative methods instruction shape the way students find professional pathways? How are qualitative research professions influencing the form and content of technology use in qualitative methods instruction?
• While many of these foci overlap, submissions should indicate the general thrust of the submission and preferred strand for presentation. Note that the constellation of abstracts and proposals may influence the placement of your presentation in the larger program, although you will be informed of this placement prior to the conference and you may conduct your presentation as planned, regardless of the designated strand. You will have between 15 and 20 minutes to present, depending on placement.
Paper Proposal Submission Instructions
• All paper proposals are to be submitted online by the deadline of December 1, 2007. To submit a proposal for a paper presentation, use the same on-line conference submission form that collects all conference paper submissions, available on the ICQI2008 web site (http://www.icqi.org/). Note ­ do not use the "panel submission" form, and instead use the "paper/poster submission" form. From the "paper/poster submission" form, use the drop down arrow in the "submission to" window, and select the "Pre-Conference Session: a Day in TQR". The intent is to assess the papers through a blind, peer-review process ­ so please be mindful of this goal when crafting your 150 word submission.
Technology Showcase Information
In addition to the paper presentations, the day includes a technology showcase. The ICQI 2008 Technology Showcase is meant to allow qualitative researchers to learn about Computer Assisted Qualitative Data Analysis Software (CAQDAS) packages they are not familiar with or would like to learn more about. It is intended to allow presenters to meet researchers interested in exploring their software options.
The format is designed to meet both the needs of participants and presenters. All participants will be given a brief description of each presenter's package prior to the session. There will be four 12 - 15 minute introductory sessions for participants to meet with presenters for software demonstrations and brief questions if time allows. This will be followed by a 25 minute Q & A session, where participants can ask more in-depth questions of the presenter of their choice.
To submit an application as a showcase presenter, be sure to read all of the instructions in this paragraph. Use the same on-line conference paper/proposal submission form that collects all conference submissions, available on the ICQI2008 web site (http://www.icqi.org/). Note ­ do not use the "panel submission" form, and instead use the "paper/poster submission" form. From the "paper/poster submission" form, use the drop down arrow in the "submission to" window, and select the "Pre-Conference Session: a Day in TQR". It is VERY IMPORTANT that you place "Showcase submission" at the top of the form to distinguish your proposal from a paper proposal.
Important Dates
• 1 December (Saturday), 2008 Deadline for submission of proposals
(Registration for attendees begins)
• 29 February (Friday), 2008 Notification of acceptance or regret
• If accepted, your piece will be presented at the conference. If accepted, within a week you will need to confirm your participation. Shortly thereafter you will be notified of your specific time/location, and the other presentations in your session.
• 14 May (Wednesday, 2008 Pre-conference day registration begins at 8:30 AM (program starts at 9:00AM)
Posted by prolurkr at 07:45 AM | Comments (0) | TrackBack
November 08, 2007
Finally!
After more than four years of his affair, almost 15 months of separation, nine months since he filed, and exactly a month since our mediation hearing, and less than 60 days from what would have been our 17th wedding anniversary...my divorce is finally FINAL - effective November 7, 2007. I would have thought I would feel bad, but the truth is I feel a great sense of relief...now he can go mess-up his life without any more of the muck sticking to me.
My financial future is pretty bright now that I won't have to plan on bailing him out regularly - the fact that he owes roughly $300,000 to the bank, the IRS, and me (mine is a very small chunk of that amount...a very small chunk...and I will have the wire-transfer in hand by tomorrow morning) never seems to make an impression on him. Oh well, I'm sure the future Mrs. Douglas Brougher, has been ready to bail him out since their affair began...wonder how far she can stretch her minimum wage job. LOL Now my financial future is my own, I just have to finish my diss and get a real job.

The picture, with this post, is something I find amusing...it's a wedding ring coffin. It comes with six plaques you can attach:



Bury the past and move on to a new tomorrow


Rest in Peace


R.I.P.


Gone and Forgotten


I Do...NOT!!


Six feet isn't deep enough!


I'm not sure which one I would use, if I was wild enough to buy this thing. I will save my ring...first as an illustration of the way that something can look good on the outside and be hollow on the inside - a very good picture of my Ex, second because the ring is gold it's actually worth something, and third I paid for it...as I paid for both of his (he lost his first one bailing hay...lucky for him he didn't lose the finger too) and my engagement ring...three of the half million things he never paid me for after he offered to do so..so it's really mine. LOL
Well it's all "Onward and Upward"* - My favorite way to move into my day, and it is a phrase that Ex hated...he also hated when I said "If that's the worst thing that happens today we are doing ok!" Optimism is not his thing.

*Note: Attribution - Abraham Lincoln (1809–1865), U.S. president. address before the Wisconsin State Agricultural Society, Milwaukee, Wisconsin, Sep. 30, 1859. Collected Works of Abraham Lincoln, vol. 3, p. 482, Rutgers University Press (1953, 1990).
Posted by prolurkr at 04:11 PM | Comments (5) | TrackBack
November 02, 2007
Are you interested - An Academic Writing Support Group Online
Do you sit down to work on your dissertation, thesis, or qualifying paper and feel like your brain has left your body? Do your hands refuse to move over the keyboard when you sit down to write? On really bad days do you feel like a huge walking question mark, with no solid answers? Is what you are writing so tiring, boring, or tedious that you are beginning to wonder why you even try?
Well if you answered "YES" to any of the above questions, I think I might know a way we can help and support each other. Are you interested in joining me in a prolurkr sponsored Academic Writing Support Group Online?
What I would like to do is create a secure space where we can vent our frustrations, and celebrate our successes...and be acountable to each other to get our work done.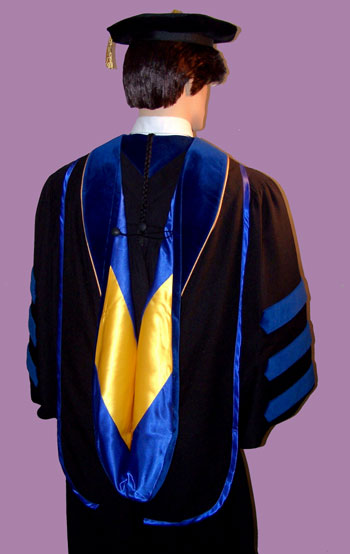 I don't know about you but I've wanted my own hood for as long as I remember. I started telling people I was going to be a college professor when I was nine...so if I don't finish this I will be losing a nearly 40 year old dream.
I know I need the support to meet my goals and timeframes. Do you want to give and get academic writing support too? Well email me and lets get this thing cookin!
The only requirements to join are that you are working on a required writing project (qualifying paper, thesis, dissertation, or the like), and your general topic is related to internet research. Beyond that...the field is open for play.
I would love to include a few recent Ph.D.'s to join us to act as beacons of hope. I don't believe there would be a lot of time requirement for the mentors, and so many prolurkr readers can use mentorship from those who have crossed over to the hooded-side. If you earned your internet research related PhD in the last three years and you would like to look in and comment occasionally, please let me know as well.
Come on guys what do any of us have to lose by banding together. Besides it's a great way to meet folks and have a group to hangout with at the next conference. We can be a virtual version of the folks on the right. I have dibs on the one with the long braid...someday I will have one again!
Email me at prolurkr...I await your response
Posted by prolurkr at 12:36 PM | Comments (0) | TrackBack
The OpenSocial Family is Growing
One day out of the gates and OpenSocial is growing...maybe this is the tool we all dreamed of for cross-platform social interaction - the social utility's utility. The following is from The web is better when it's social at OpenSocial
There are many websites implementing OpenSocial, including Engage.com, Friendster, hi5, Hyves, imeem, LinkedIn, MySpace, Ning, Oracle, orkut, Plaxo, Salesforce.com, Six Apart, Tianji, Viadeo, and XING.
Related post:
Google Announces the OpenSocial API
Powered by ScribeFire.
Posted by prolurkr at 11:30 AM | Comments (0) | TrackBack
CFP - METAPHOR AND LANGUAGES FOR SPECIFIC PURPOSES
Ibérica, the Official Journal of AELFE (Asociación Europea de Lenguas para Fines Específicos) will devote a Special Issue to the theme

METAPHOR AND LANGUAGES FOR SPECIFIC PURPOSES

The issue will be open to papers from a broad cross-section within this field. Contributions are invited to cover traditional areas such as the use of metaphor in field specific academic disciplines, (for example Engineering, Business, Science or Law, to mention a few) and including possible pedagogical consequences but also insightful and innovative proposals researching the use of metaphor in the language deployed in professional or occupational settings, or in writing in general will be welcome.

People wishing to contribute are invited to submit their proposals in keeping with the following conditions and deadlines.

STAGE 1

1) Please submit an ABSTRACT (approximately 500 words, including relevant references) giving your tentative title and outlining, among others, the scope of your proposal, the empirical evidence upon which it will be based, the findings expected, underlining their innovative nature and the interest they could have for the research area of metaphor in the language used for specific purposes.
2) Deadline for receipt of Abstracts: 30th November 2007.
3) Abstracts should be edited with the programme MS Word and forwarded electronically as attachments to both the Editor of Ibérica: Ana Bocanegra Valle ([email protected]) and the Guest Editor for the Special Edition: Michael White ([email protected]).
4) On a separate sheet, authors are asked to provide (electronically also) personal contact details, affiliation and, if relevant, a brief account of prior research in the area.

STAGE 2
1) Abstracts will be reviews by peer referees. Selection will be made attempting to cater for as broad a cross-section as possible.
2) Authors of the selected proposals will be notified by 10th January 2008.
3) These authors should then submit their finished article by 15th April 2008.
4) Articles should follow the guidelines of AELFE style sheet and (on this occasion) not exceed 6,000 words (guidelines are available at:
http://www.aelfe.org/?s=normes&p=1 or directly from the editor).

STAGE 3

1) Final articles will be independently reviewed and authors should meet the suggestions indicated.
2) Publication objective: Ibérica, Issue 17, Spring 2009.

Any further queries can be addressed to the Editor or Guest Editor.

Ibérica, the Journal of AELFE, ISSN 1139-7241, is at present covered by the following abstracting/indexing services:
- BLL - Bibliography of Linguistic Literature. Bibliography of General
Linguistics and of English, German and Romance Linguistics
- CINDOC - Centro de Información y Documentación Científica
- Dialnet – Portal de difusión de la producción científica hispana
- DOAJ - Directory of Open Access Journals
- LATINDEX - Sistema Regional de Información en Línea para Revistas
Científicas de América Latina, el Caribe, España y Portugal
- MLA Directory of Periodicals
- MLA International Bibliography
- SPPELL: Spanish Periodical Publications in English Language and Linguistics
- The Linguist List

and has been accepted for prompt coverage by:
- LLBA: Linguistics and Language Behaviour Abstracts
- Linguistics Abstracts




Powered by ScribeFire.
Posted by prolurkr at 10:44 AM | Comments (0) | TrackBack
CFP - INTERNATIONAL JOURNAL OF SOCIAL RESEARCH METHODOLOGY
CALL FOR QUANTITATIVE METHODOLOGY PAPERS

The International Journal of Social Research Methodology is a peer-reviewed publication that provides a focus for ongoing and emerging methodological debates across a range of approaches, both qualitative and quantitative methods, including mixed and comparative methods, as these relate to philosophical, theoretical, ethical, political and practical issues.

We are particularly interested in receiving submissions that provide innovative and reflective commentaries on the use of quantitative methods. These should be accessible to the general readership targeted by our Journal, rather than addressing complex statistical procedures. Discussion of the substantive focus of research should be illustrative of methodological issues, rather than the primary focus.

A description of the Journal's remit and details of submission procedures can be found at: www.informaworld.com/srm

informaworld is the online home of publications from Taylor & Francis, Routledge, Psychology Press and Informa Healthcare Informa plc ("Informa") Registered Office: Mortimer House, 37-41 Mortimer Street, London, W1T 3JH. Registered in England and Wales - Number 3099067.
>
Powered by ScribeFire.
Posted by prolurkr at 09:22 AM | Comments (0) | TrackBack
November 01, 2007
A required read/listen for all human beings - Randy Pausch's "Last Lecture"
I've thought much on Randy Pausch's Last Lecture since I first heard his presentation last month. If you haven't run across Dr. Pausch's lecture here is a bit of background. Randy Pausch is a Computer Science professor at Carnegie Mellon...you may not know his name but you know his work...he specializes in Human-Computer Interaction, particularly virtual reality (VR).

In September 2007, Dr. Pausch was told by his doctors that his pancreatic cancer had returned and that he had between three and six months to live. And so armed with that information and in basically good health, he authored a profound piece of instruction for his children, and by extension for all of the rest of us. As an adult child of parents who died when I was very young, I can tell you that this lecture and the other things Dr. Pausch is leaving for them, will be treasured by his children because it makes the missing parent a real person...with wisdom and flaws.

Take the time to read and to listen to this lecture...send it on to your friends and family. It is a rare thing for so much wisdom to be codified in such an accessible way and then to be available to everyone.

My heart goes out to Dr. Pausch, his family, and friends - death is never easy nor is it often welcome to one so young...but the gift of knowledge of ones departure is amazing. I hope his children will remember his love and that we all remember his strength, and his character...I know I will.

The link to Dr. Pausch's website takes you to a list of media coverage (some with feeds), a transcript, and a Google video of the lecture. Gather whatever sources you need for your archive

Posted by prolurkr at 09:04 AM | Comments (1) | TrackBack